Introduction
Self-hosted software is a great way to maintain control and ensure the privacy of your data. Self-hosting software is the practice of running software on your own server. Utilizing containerization software such as Docker makes this practice very easy. You can self-host your own personal wiki, Wireguard VPN, DNS Ad Blocker, and even a password manager.
This list of websites will help you find more applications and alternatives to popular services that you can Self-Host.
Awesome-Selfhosted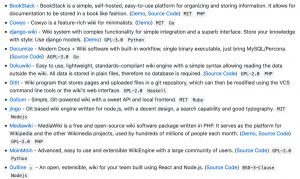 Awesome-Selfhoted is a community organized and maintained list of self-hosted software. This is perhaps the largest and most comprehensive list of software that you can self-host. The list of software is sorted by category. It is maintained on a Github repository, so if there is something that needs changed or added, you can fork the repository yourself and submit changes to the maintainers. The repository is updated a few times a week.
AlternativeTo

AlternativeTo is a search engine and directory that allows you to find alternatives to popular software and websites that you currently use. Just type the software or website into the search bar, for example, "Trello", "Twitter", "Evernote", and you will be presented with alternatives to the service. In order to filter the results to show only self-hosted software, then click on platform and click "Self-Hosted".
Switching.Software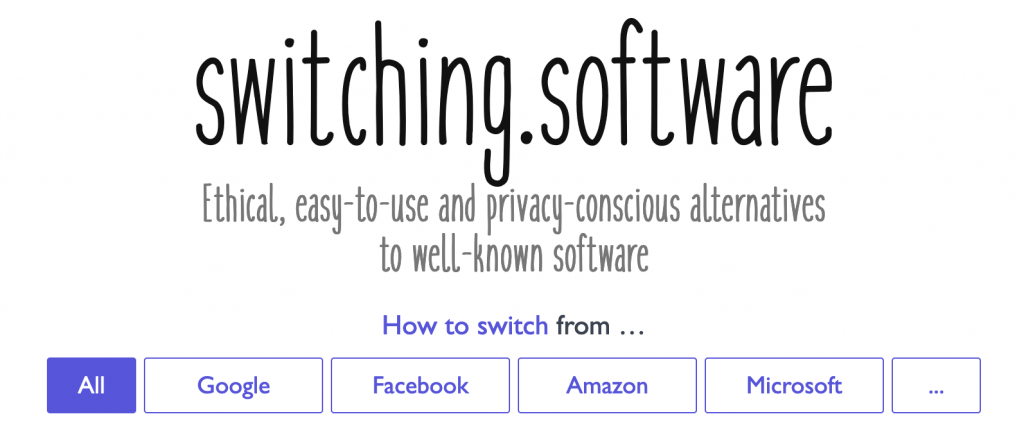 Switching.Software provides a list of "ethical, easy-to-use and privacy-conscious alternatives to well-known software" that are organized by service. Fore example, if you want to switch from Dropbox, you can click "Dropbox" and you will be presented with a list of alternative open-source software that you can self-host.

LibHunt
Libhunt has created a directory of self-hosted software that is constantly updated. You can subscribe to a newsletter or RSS feed to keep yourself updated on the lasted self-hosted software applications and news. In addition, Libhunt allows you to compare different types of applications, for example Mediawiki vs. Dokuwiki.
SaaSHub
SaaSHub is another software directory that you can use to search for self-hosted software and alternatives to popular software. As you are searching through the directory make sure you look for the open-source tag to find software applications that you can self-host on your own server.
Reddit – /r/selfhosted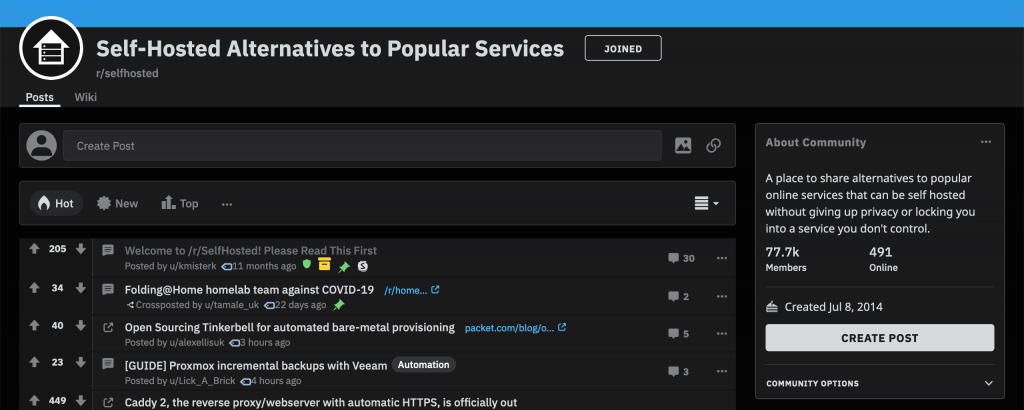 The r/selfhosted community on Reddit is a great source to locate self-hosted software and other self-hosted solutions. It is a great place to learn and find new ideas from a community of people who also host software on their own servers. This subreddit is also a good place to find up-and-coming software that isn't yet well known.
Another great thing about this subreddit is that if you get stuck or have any issues with the applications that you are working with, the community is always willing to help get you up and running.
Lucid Index
Lucid Index self hosted aggregates the information on the Awesome-selfhosted list and the Awesome-sysadmin list into a easy to use directory that is updated daily. They have a great e-mail list that you can subscribe to in order to make sure that you are always one of the first to know when new self-hosted software is released.
Conclusion
I hope this list helps you find more self-hosted software applications for your setup. Using these website will ensure that you will be able to find all of the latest self-hosted software quickly and easily. These lists will also help you find some of the newest software that you can install in order to help the developers find bugs and suggest new features through websites like Github.
If I missed anything, or if you have any questions, please leave a comment below.
The post, 7 Websites to Find Self-Hosted Software, first appeared on Codeopolis.